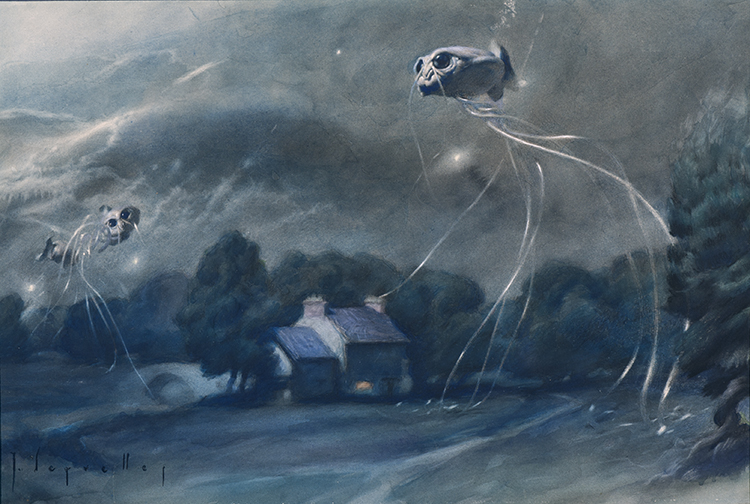 April 10 –May 16, 2017
Truly a vision of the fantastic, this exhibition is an amazing exploration of both illustrative art and the evolution of the visual landscape of science fiction and fantasy literature. Featuring work by both American and European artists and spanning more than a century, these vivid illustrations bring to life adventures, beings, and worlds conjured in novels such as Don Quixote, Alice's Adventures in Wonderland and Tarzan, and pulp magazines including Amazing Stories, Weird Tales, Fantastic Adventures, and Wonder Stories. Accomplishing far more than simply guiding readers in their explorations of new and sometimes bizarre realms, the range and impact of these illustrations are far-reaching. The exhibition will also include books, pulp magazines, and other items drawn from UMBC's Rosenfeld Collection, revealing how the illustrations in the Korshak Collection were meant to appear when encountered as artifacts of material culture.
---
Artist'sTalk: Donato Giancola
5:00 p.m.Thursday, May 4, 2017
Award-winning illustrator Donato Giancola, best known for his endlessly creative and exquisitely rendered science fiction and fantasy illustrations, will discuss his broad range of illustrative work. Giancola's diverse clients include DC Comics; Sci-Fi Channel; Wizards of the Coast (Magic: The Gathering); Tor Books; National Geographic, Milton Bradley; Microsoft; Penguin; Random House; Hasbro; Scholastic; Simon & Schuster; The Village Voice; CNN; United Nations; U.S. Postal Service.
Donato Giancola's website: www.donatoart.com
---
The illustrations featured in this exhibition are treasured pieces of the Korshak Collection, owned by Stephen Korshak. The love of both literature and art of the science fiction and fantasy genres is a passion Stephen Korshak shared with his father Erle Korshak, a founder of the imprint Shasta Publishers, which specialized in science fiction books. Shasta played a key role in ushering in the transition that saw important science fiction literature move from the pages of magazines printed on cheap pulp paper to hardcover, library-quality books. Much of the illustration art for Shasta publications hung in the Korshak family home and the company office where, as young man, Stephen Korshak encountered it–a fact the now collector cites as inspiring in him a sense of wonder, and a passion for the illustrations of the genre.
Korshak Collection website: www.korshakcollection.com
---