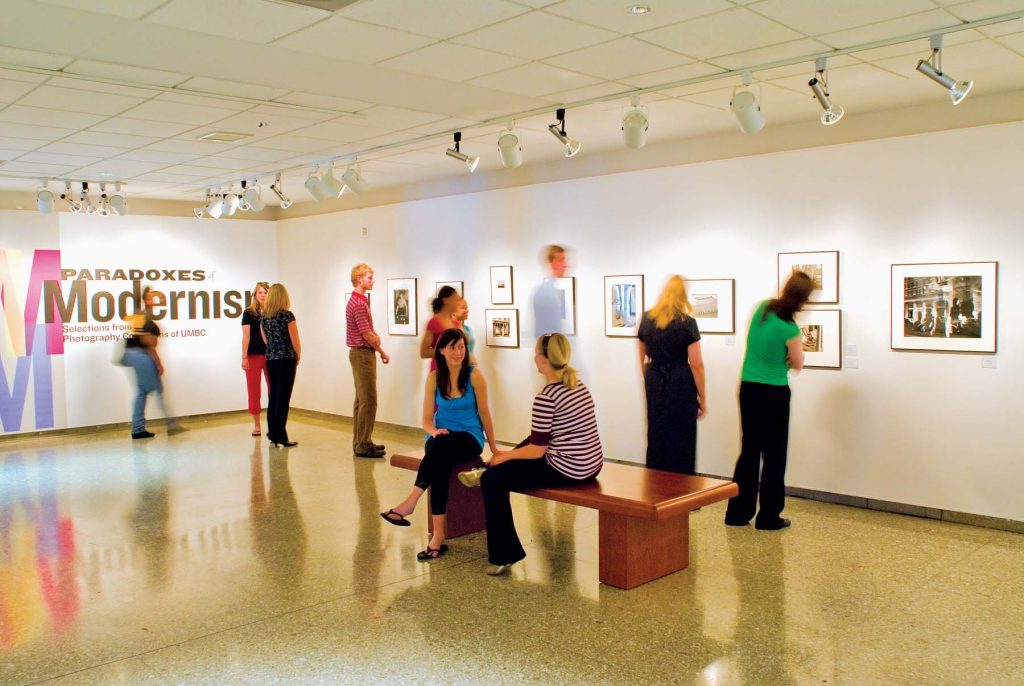 April 14 – June 29, 2008
Dramatic political, social, economic, and technological changes in the late nineteenth and early twentieth centuries inspired modernization throughout the world. In the arts, the movement called Modernism was one response to those changes, and in retrospect overarching characteristics of this very diverse movement have been identified. A survey of twentieth century images selected from UMBC's Photography Collections provide evidence not only of those characteristics, but also some of the paradoxes of Modernism. This exhibition will present 75 photographs that will survey Modernism from the 1920s to the 1970s.
Photographs by: Bernice Abbott, Ansel Adams, Manuel Alvarez-Bravo, Jim Amos, Diane Arbus, A. Aubrey Bodine, Brassai, Richard Buswell, Harry Callahan, Michela Caudill, Chim, Imogen Cunningham, Cary Beth Cryor, Robert D'Alesandro, Judy Dater, William Eggleston, Elliot Erwitt, Walker Evans, Jan Faul, Robert Fichter, Eric Fischl, Robert Frank, Roland Freeman, Lee Friedlander, Sally Gall, Ralph Gibson, Mildred Grossman, Heinz Hajek-Halke, Philippe Halsman, Ralph Hattersly, Robert Heinecken, Eikoh Hosoe, Richard Jaquish, Barbara Kasten, Richard Kirstel, George Krause, David Lebe, Jenny Lynn, Ralph Meatyard, Ray Metzker, Martin Miller, Roger Miller, Lisette Model, Barbara Morgan, Joan Netherwood, Arnold Newman, Dorothy Norman, Starr Ockenga, Bart Parker, Gilles Peress, Irving Henry Phillips, Sr., David Plowden, Charles Pratt, August Sander, Jaromir Stephany, Albert Renger-Patzsch, Walter Rosenblum, Christian Schad, Aaron Siskind, Neal Slavin, Ralph Steiner, Paul Strand, George Andrew Tice, Philip Trager, Barbara Traub, Jerry Uelsmann, Edward Weston, Minor White, William Williams, Gary Winogrand, John Wood, Barbara Young.