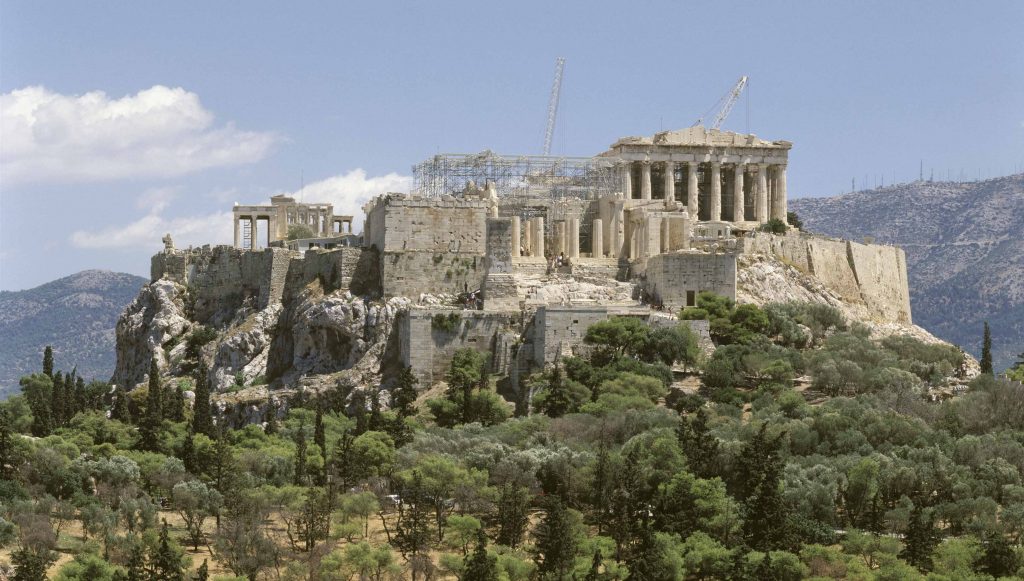 January 29 – March 23, 2007
The Albin O. Kuhn Library & Gallery is pleased to present Photographs of the Athenian Acropolis: The Restoration Project created by Socratis Mavrommatis, Chief Photographer of the Acropolis Restoration Service, documenting the interventions and transformations of Acropolis monuments since 1975. The exhibition, produced by the Acropolis Restoration Service of the Hellenic Ministry of Culture, opened in Athens at the renowned Benaki Museum in 2002, and has traveled to Brussels, Paris, Rome, and London. The North American tour is organized by the Thomas J. Walsh Gallery, Fairfield University. The presentation at UMBC is co-organized by Associate Professor Richard Mason, Ancient Studies Department, and the Library Gallery.
Concurrent with Photographs of the Athenian Acropolis: The Restoration Project is The Glory of Ruins on display in the Library Rotunda and curated by a group of eight students taking part in an Ancient Studies/Honors College internship. This exhibition displays nineteenth and twentieth century photographs depicting classical Athens and Attica, all from the Special Collections of the Albin O. Kuhn Library & Gallery.
The presentation of these exhibitions is supported by an arts program grant from the Maryland State Arts Council, an agency funded by the State of Maryland and the National Endowment for the Arts. Additional support comes from the Friends of the Library & Gallery and the Ancient Studies Department.
---
Public Program
4:00 p.m.
Wednesday, February 14, 2007
Exhibition Talk​: Katherine A. Schwab, Associate Professor of Art History at Fairfield University
Dr. Katherine A. Schwab will speak on The Parthenon East Metopes: Technologies of the 21st Century and New Discoveries.
Sponsored by the Humanities Forum with a reception to follow.