August 30–December 15, 2023
Lost Boys: Amos Badertscher's Baltimore is the first career retrospective of artist Amos Badertscher (American, 1936–2023) in the United States. Between the 1960s and 2005, Badertscher documented hustlers, club kids, go-go dancers, drag queens, drug addicts, friends, and lovers who were part of LGBTQ+ life in Baltimore. A self-taught photographer, Badertscher worked on the fringes of the polite society into which he was born as an upper-middle class white Baltimorean. "Breaking all the rules of documentary photography," as he has stated, he developed a signature style of spare portraits staged in his home studio.
Taking his camera into the city's clubs and gay bars, Badertscher recorded the shifting geographies and personalities of queer Baltimore pre-Stonewall and through the height of the AIDS epidemic. In the early 2000s, he captured the urban decay, economic devastation, and rampant drug use of sex workers in the city's post-industrial landscape, in a body of work foregrounding aspects of Baltimore's queer history that have rarely been acknowledged. Badertscher returns repeatedly to his personal photographic archive, inscribing his prints with handwritten notes on his subjects' personal histories, filtered through his own recollections. This exhibition explores the power dynamics and desires embedded in his photographs, which memorialize people often marginalized by society.
Header image: Amos Badertscher, Voice Wafers in Time #1, 1975. Gelatin silver print. Courtesy Amos Badertscher Estate.
---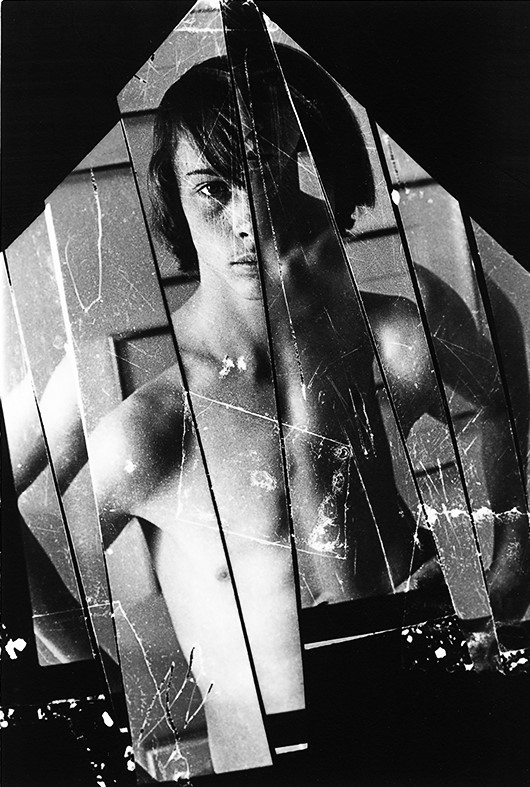 Public Programming
LGBTQ+ Oral Histories: Ethics and Practice
Panel Discussion
September 28, 2023, 5pm
Reception to follow
Featuring Dr. Kate Drabinski (UMBC), Dr. Joseph Plaster (Johns Hopkins University), Hunter O'Hanian (Independent scholar and curator), and students of the 2023 Interdisciplinary CoLab, "LGBTQ+ Oral History Project." This event is Co-sponsored by the Department of Gender, Women's, + Sexuality Studies, UMBC.
Image: Amos Badertscher, Portrait of a Hustler, 1978. Gelatin silver print. Courtesy Amos Badertscher Estate.
---
Selected works
---
In Memoriam
Amos Badertscher | "Who Documented the Sexual Underground," The New York Times August 9, 2023
Amos Badertscher | "Baltimore photographer who chronicled queer scene . . .," The Baltimore Sun August 1, 2023
Amos Badertscher | "Remembering Amos Badertscher," artnet News July 28, 2023
Amos Badertscher | "Amos Badertscher, photographer of Baltimore street life, 1936–2023," ArtReview July 28, 2023
In Memoriam: Amos Badertscher (1936-2023) | CLAMP Art July 26, 2023
---
A note on the labels
Texts accompanying the object labels for the photographs in this exhibition are in Badertscher's own words, as documented by his handwritten inscriptions on the prints and in interviews conducted by consulting curator Hunter O'Hanian, who has compiled and condensed the texts. Colloquialisms as well as inconsistencies in spelling and grammar have been maintained to reflect Badertscher's writing style. We have tried to present the texts alongside their corresponding photographs as space has allowed, however, in some instances, the texts can be found in the laminated guides available within the gallery and below.
Baltimore portraits
Baltimore streets
Floating wall (center of gallery)
---