As described by the artist, West Baltimore Ruins is "a visual story told by West Baltimore's daughter." McCoy created the series between 2018 and 2020 as a means of documenting the architectural landscape of the neighborhood in which she was raised, where an estimated one third of buildings are now abandoned. In addition to her digital camera, McCoy also used a cell phone camera to record her impressions, noting that its mobility and discretion enables photographs to be made easily while on the move. The resulting images take the viewer on a walk through the neighborhoods of West Baltimore as viewed through McCoy's observant eyes, capturing the vibrant colors of empty row house facades, the charm of the area's neglected historical architecture, unruly vegetation reclaiming empty houses, and signs of encroaching gentrification.
As physical remains of the past, ruins are typically associated with disuse and decay. McCoy's photographs point toward the causes behind this deterioration in West Baltimore: housing discrimination, urban blight, voucher programs that have relocated residents rather than reinvigorated neighborhoods, and lack of investment in commercial renewal that has benefitted other parts of the city. By turning attention—and her camera—to this landscape, McCoy also enlivens it. Her connections to the area and interviews with residents that helped shape the project invest the photographs with a personal perspective, preserving the memories and histories embedded in the vanishing architectural structures of West Baltimore.
This virtual presentation displays a selection of images and interviews from the project. Photographs from the series have been presented both in black and white and color on the artist's Instagram and the entire series is published in McCoy's 2021 book West Baltimore Ruins.
---
Public Program
Virtual Artist's Talk: Shae McCoy in Conversation with Dr. Ashley Minner (UMBC)
12:00 noon
March 11, 2021
Register here (via Webex)
---
West Baltimore Ruins
West Baltimore has aggressively opened my eyes to the irresponsibility and disservice of city officials done to urban black communities. Ironically, these communities once thrived with culture and now they decay as new developments await.

Shae McCoy, West Baltimore Ruins (2021)
This project is an in-your-face first account of what Baltimore residents in these mentioned communities experience everyday. It is an artistic call-out for city officials to see the cause of their neglect.

Shae McCoy, West Baltimore Ruins (2021)
In 2018, then mayor of Baltimore Catherine Pugh targeted corner stores in West Baltimore as sites of drug dealing and crime that did little to benefit the community. However, corner stores and convenience stores often provide basic necessities to residents in areas defined as food deserts and where commercial service establishments are otherwise lacking. McCoy notes that the first sign of gentrification in her neighborhood was the closure of the corner stores.
In the 1950s and 60s, Sandtown was known as "Baltimore's Harlem" where musicians like Diana Ross and Billie Holiday performed and where jazz legend Cab Calloway was born. After riots in 1968, the population began to decline and now one third of buildings in the neighborhood stand vacant. The neighborhood was locus for the 2015 Baltimore Uprising in response to the arrest and death of Freddie Gray while in police custody. Residents of the area report feeling harassed by police presence.
I am no stranger to vacant houses. As a matter of fact, I still live next door to one in my current neighborhood of Park Heights. Many of the vacant houses in my old neighborhood of Sandtown served as playgrounds and meeting places for my friends and I as children.

West Baltimore Resident Otis Eldridge in Shae McCoy, West Baltimore Ruins (2021)
*Click images in galleries above to enlarge
---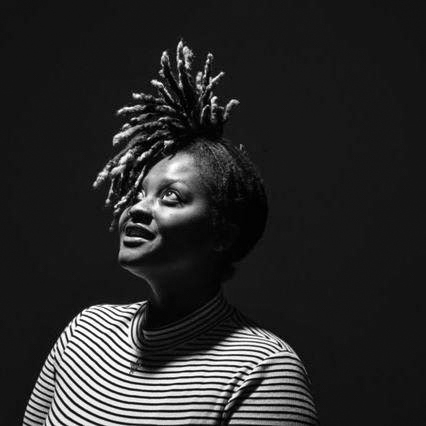 Shae McCoy is a photographer based in Baltimore, Maryland. Her work has been featured in major publications such as Teen Vogue, Cosmopolitan, Essence, Baltimore Magazine, and BMore Art and displayed on the Baltimore Museum of Art website and in the Joan Hisaoka Gallery in Washington DC. Shae is founder of the cultural blog Uncommonrealist.com and has interviewed actors, activists, community leaders, and politicians to creating a spotlight for local artists. Uncommonrealist was nominated for The Inaugural Southern Blogger Impact Awards in 2016 and featured on local platforms such as Docs Castle Media, and Undaground Radar Magazine. In 2018, the blog won an award for Best Entertainment Website.
---
Interviews
McCoy interviewed current and former residents of West Baltimore during the making of this project. Their words and recollections appear in her book, creating a dialogue between her images and the community that calls these neighborhoods home.
---
About the book
West Baltimore Ruins is available to purchase here.