September 16 – December 12, 1998
A retrospective exhibition of this major artist's photographic career, Imprints features approximately 60 images representing forty years of chronicling the changing face of America. From small towns to cityscapes to railroads and bridges, David Plowden has devoted his career to memorializing the vestiges of Americas industrial and rural past. In his photographs, he explores the beauty, power, blight, and significance of these once commonplace icons and vistas — and captures the visual texture of a bygone America on the verge of vanishing.
A book, published by Bulfinch Press (1997) accompanies the exhibition. On Thursday, October 15 at 5:00 p.m. the artist will present a lecture about his work in conjunction with the show.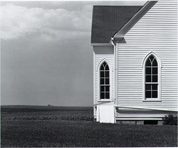 ---
Public Program
5:00 p.m.
Thursday, October 15, 1998
Artist's Talk: David Plowden
A reception will follow